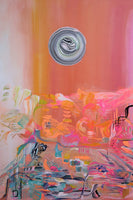 | About the Artist |
Hailing from the vibrant city of Queens, NY, Samah Kthar has found her artistic journey taking root in Metro Detroit for more than two decades. With degrees in Biology, Health Science, and a Master's in Occupational Therapy, Kthar humbly merges her academic achievements with a heartfelt passion for the arts.
Guided by the belief in the healing power of creativity, Kthar's art embraces an intuitive approach, allowing emotions and experiences to flow freely onto the canvas. In her dynamic strokes, viewers are welcome to find a mirror to their own feelings and a comforting space to reflect.
Amidst a diverse cultural tapestry, Kthar's art resonates with a universal audience, speaking to the shared human experience. Her works of art serve as an invitation for others to explore vulnerability and discover strength through the cathartic process of self-expression.
In the simplicity of her artistic expression, Samah Kthar continues to find beauty in the transformative potential of art. Her intention is to invite others to explore the profound depth of healing that art can offer on the journey of self-discovery and empowerment.
Kthar has exhibited in various galleries, including the University of Michigan Ann Arbor, Detroit Historical Museum, Scarab Club, Heidelberg Project, etc. Kthar has been featured on PBS, WJZZ,Fox 2 News, CBS 62, and The Oakland Press.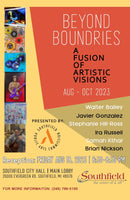 Group Exhibition: "Beyond Boundaries" Southfield City Hall
August - October 2023
2600 Evergreen Rd, Southfield MI 48076